Shuffleboards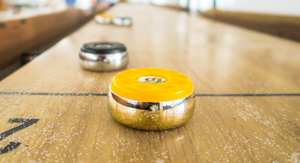 Understanding Abacus Scoring for Shuffleboards and Game Tables 0
Whether you're playing a friendly game of shuffleboard, or you've got bragging rights on the line, keeping score is the only sure-fire way to declare a winner. However, keeping score on a shuffleboard table can be a little tricky if you've never kept score using an abacus scoring system before. 
Overview of Shuffleboard Scoring
The basic rules of shuffleboard scoring are relatively easy to understand. The table is segmented into three scoring areas at gradually further distances. Each scoring area is labeled from closest to furthest, with a 1, 2, or 3 to determine the points awarded for reaching it. As pucks slide down the table, their placement in the scoring areas will determine how many points to award each team.
Additionally, teams can score a 4 if they manage to slide a puck to the end and have it hang over the edge without falling into the gutter. This is referred to as scoring a hanger. According to varying house rules, you can also score a 5 if a puck hangs over the left or right corners of the scoring end.
Once both teams have thrown all pucks, you'll need to tally the score for that frame. This is where it can get tricky to keep track of points. To award points for a frame, you'll need to have thrown the furthest puck on the table, meaning only one team can score per frame. However, even if you did throw the furthest puck that frame, only the ones that are further than your opponent's pucks count towards your score.
How To Use The Scoreboard On Shuffleboard Tables
Once you've tallied your score for that frame, you'll need to adjust the scoreboard on the table. Most shuffleboard tables come equipped with an abacus scoring system. This system places 11 beads on a rod that all represent points. They consist of 9 black or chrome beads and 2 other colored beads (typically red or blue to differentiate teams).
All the beads will need to be in the center of the rod to begin scoring on the abacus scoring system. As you progress through frames and add points to your score, you'll slide over one black or chrome bead for each point you earn. You'll continue sliding over black or chrome beads until you score 10 points. Once you've scored 10 points, you'll slide over one of the contrasting color beads to the end, which represents 10 points each. Once you've moved a 10 point bead, reset your 1 point beads to the center, and repeat the process until you reach the final score of 21 points. The winner has to win by 2 points.
Shuffleboard Abacus Scorer Instructions [Video Tutorial]