Features of a Quality Shuffleboard
Features of a Quality Shuffleboard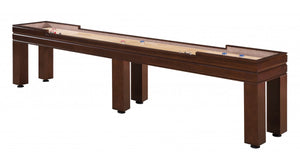 At Legacy Billiards, we're committed to exceeding your expectations in every product category we offer. In our shuffleboard line, we ensure that each product is carefully built every step of the way.
We start by using the highest quality components and materials available.  We use a polymer poured top on all surfaces of our shuffleboard tables. The advantage of using polymer is that during the manufacturing process, air cannot be trapped underneath the polymer. If an air pocket formed on the surface of the shuffleboard, and something like a puck were to fall on it, the surface would crack and cause damage to the shuffleboard itself.
All of our poured surface playfields come with a lifetime warranty to ensure that cracking will not end the life of your
shuffleboard
. We thoroughly test each playfield by dropping pucks to make sure no air is underneath and no air pockets have been formed.