How to Make Shuffleboard Adjustments
How to Make Shuffleboard Adjustments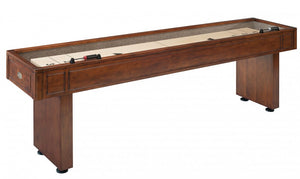 When you've got a new shuffleboard, there are three important adjustments you'll need to make to your table to ensure optimal playing and accuracy for tournament play.
1. Check the legs: Make sure they're level and even to avoid your puck sliding to one side.
2. Sway: This helps control the pucks speed. You'll want to raise up the end of the table just a little bit. This keeps the pucks from coming off the end of the table for more accurate play.
3. Climate: The hardware under the table keeps the playing surface at the right curve to keep your puck in the playing area.
You can hear more about these adjustments explained by Cris Gould in this Legacy Video.