How to Maintain Your Shuffleboard
How to Maintain Your Shuffleboard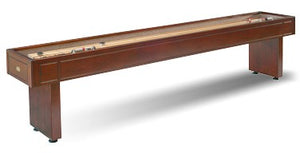 Shuffleboard tables are one of the most exciting product categories we have in our game room furniture line. We offer quality-built shuffleboards in several sizes from 9-foot to 16-foot.
When purchasing a shuffleboard table it's important to take proper maintenance and care into consideration. If you want to get the most from your shuffleboard table, you'll need to regularly apply shuffleboard wax on the play surface.
Legacy offers two different products that will maximize playability and extend the life of your shuffleboard table: Legacy's Black Ice Shuffleboard Wax and Black Ice Silicone Spray.
Often the process of applying wax to the table is misunderstood, but it's actually a very simple procedure that takes only a few minutes if done properly. First spray Silicone Spray to the table surface and let it sit for a few minutes. Then, apply the wax to the table.
Check out our shuffleboard maintenance video guide for a demonstration on how to apply silicone spray and wax to your shuffleboard.