Informative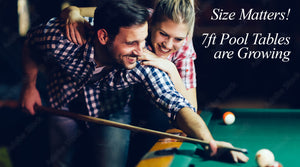 Seven Foot Pool Tables are Growing 0
The new generation of home owners are buying more and more 7ft size billiard tables for their home game rooms. The approximate percentage of 7ft table compared to 8ft and 9ft tables historically was only about 10 to 15% of the market. 75 to 80% of home tables were 8ft size and 5% or less are 9ft size as these tables take up so much space in a large room. Since more home owners are "staying home" more people are buying pool tables to entertain and play at HOME. The 7ft size pool tables are selling at a growing rate of 20 to 25% of all tables sold which is up from previous years. Below are the suggested reasons for this growing increase:
Smaller room sizes in newer homes dictate the need for smaller pool tables
Game rooms in homes are being used for multiple activities and not just for playing pool
7ft Pool Tables cost less. (this is generally not the case as the material difference in production is very small)
7ft Pool Tables are easier to play than larger tables.
This is only partly true as 7ft pool tables are geometrically the same as 8ft and 9ft tables (the width of the playfield is exactly half of the length.) The means the 7ft table angles and shots are the same. The difference is only in firmness of stroke and degree of error. (A longer shot will reveal a larger miss when or if the shot is off target) Otherwise, a 7ft table be just as challenging and offer the same enjoyment as larger tables.
Most coin-operated pool tables in bars and pubs are 7ft size. These tables are a little different as the pocket opening (called the "mouth" of the pocket) are much wider than most home tables. This allows for balls to be pocketed faster thus the games are shorter enticing customers to pay to play more often. Home tables are a little more challenging and offer play consistent with a professional style table the pros would play on.