Pool Table Buying Guide: An Introduction
Pool Table Buying Guide: An Introduction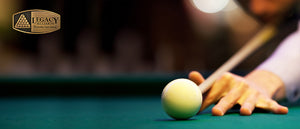 Contents:
Buying a pool table is a big investment. While it's undoubtedly exciting, buying on impulse is not the best recipe for long term value... more often it's fuel for disagreement with a spouse or other interested party. Just like a pool cue should be considered an extension of your arm, the pool table should be the center of your playing universe. Whether you are a leisure player, someone who wants to improve their game, or even a league player, the pool table is where it all starts. Size and style are of paramount importance, depending on what you want to do, but it doesn't stop there. Pool tables, like expensive cars, come with all sorts of bells and whistles to consider. It can all be a little overwhelming if you let it, but hopefully this guide will provide some clarity in getting you started in your pool table search. 
Table Types
To begin, let's discuss the most important part of a pool table – the table top. This is the foundation upon which all your pool playing wizardry is unleashed. Picking the right material from the get-go will be the deciding factor in two crucial categories: money and purpose. 
Generally speaking, a smart purchase is an informed purchase. One where the buyer knows exactly what his or her requirements are, and what does and doesn't represent good value in their circumstances. In layman's terms, you get what you pay for. Whether you are looking for cheap entertainment or an impressive center-piece for the most veteran of players, the table's material from should be considered first and foremost. 
As mentioned, the primary consideration of materials is how they affect the quality of play. However, pool tables are also an inThe materials below are listed in order from cheapest to most expensive.
Synthetic Table Slates
Particle Board (MDF) – This is a medium density fiberboard that will serve its purpose initially but will warp over time. Condensation and changes in temperature will all but ensure its fate and there is not much you can do to protect a table made from this material. Although often used on lower quality tables built for accessibility, MDF is also found on some higher quality boards that prioritize a lightweight build over the longevity of slate - slate cabinets need to be significantly more substantial in order to support the additional weight, MDF tables may have a more sleek design with a lighter footprint.

Honeycomb – This is a honeybee-like surface that is compressed by layers of hardened plastic. The major flaw in this design is that although it doesn't tend to warp, the playing surface is a bit rougher than the other synthetics. These tables are also considerably lighter than other tables and, when paired with cabinets built with economy in mind, often have a tendency to be unstable

Slatron– An alternate name for this material is Permaslate which is a layer of condenses and hardened plastic covering particle board. This is considered the best option out of all the synthetics available and will be the most expensive and durable synthetic you can buy. This is a great compromise if you are looking for quality, but not yet ready for that "lifetime" slate purchase. 
Slate - The Industry Standard
Slate gets its own tier because it is universally considered the highest quality surface available. It is more expensive than the rest of the options but the payoff is considerable. It will not crack or warp under normal circumstances and the surface allows for a clean and smooth shot. Italian slate has historically been regarded as the most premium material from which to build a table, but in recent years Brazilian slate has also developed an excellent reputation. 
Slate – A heavy rock that naturally splits into wide, flat pieces, this material lends itself well to a game that absolutely requires a level playing field. Slate comes in a few different sizes including 3/4", 7/8", and 1". Although thinner slates may be cheaper, a 1" slate is the recommended standard, and is also approved by the Billiard Congress of America (BCA) for tournament play. Because slate is too large and heavy to be easily transported (up to 600 lbs. for a standard-size table), it is typically separated into three pieces to make it more feasible and economical to transport. Most three-piece slates are diamond-honed matched and registered, which simply means that all three sections were cut from the same slab. 
In addition to the higher price, a downside to slate is that it's pretty difficult to move around - whether that be a new furniture layout in the same room or a full move to a new house. It's not impossible but the best bet is to plan thoroughly and then enlist some professional help with installation or moving.
Basic Table Construction (Slate):
The table cabinet is usually a large wooden frame, rectangular in shape and made from planks of thick hardwood. Be sure to educate yourself on the robustness of the joining techniques on any tables you're looking at - it's a crucial component of the table's stability. Designs and materials can vary, but typically the slate (or synthetic) is supported by two cross beams as well as a center beam. Some tables might even have doubled up center beams but since the weight of the slate is distributed from side to side and not end to end, these could be considered redundant. Depending on the size of the pool table, the construction may consist of any number of legs or even a central pedestal. 
The slate will lock down onto the frame in 3 sections which are leveled separately. Bumpers, or cushions, are then lined flush with the table rails and slate in a rectangular pattern along the edges. The table rails will contain grooves running the entire length of the sides and ends. Felt is then spread and stretched across the table in stages and then secured with wooden or rubber featherstripping that is hammered into the grooves. Finally, the pockets are secured to the corners and side rails with metal or carbon fiber brackets. 
Being lighter, MDF and synthetic tables below a certain price point will typically employ plastic or particle board in elements of the frame. 
Pool Table Styles & Aesthetics
The sheer size of a pool table means that it will command a lot of attention, making it important that you consider how any potential table complements (or clashes with) it's intended home. While modern and unique tables are a great addition to specific decors, they typically require someone who has a real eye for detail in order to avoid mismatching. Furthermore, a good table should last decades so, if there's any hesitation, we often recommend a slightly more conservative approach to the decision. Pool tables generally fall into three basic categories:
Classic – These are the basic tables that have been around for decades - the ones your grandparents grew up playing on. They are usually covered in vintage green or red felt and have a hardwood frame. The legs of the table probably have an antique pattern and styling you might see on older chairs or table. 

Contemporary – The modus operandi of these tables is to showcase a current twist on an older design. Stained hardwood is replaced by polished black finishes and the old-timer green and red felts are replaced with blue or even patterned designs. 

Modern – These tables completely break rank with the older designs. Expect table legs to be replaced with pedestals, varying assortments of pocket designs and felt colors, track or neon lighting and even glass LED top covers that can help highlight shot angles. These are the high end designer tables that will practically wash your dog while you take a break on the couch if you want them too. 
Pool Table Sizes & Spacing
Before rushing out to make a purchase, it's important to note if you have enough space. Most first-time buyers of pool tables underestimate how much space is required. 
Even if the table will fit comfortably inside the room, there must be adequate room around all sides of the tables for players to shoot. You should consider what size of cues you plan to use and whether the table will be used by adults or children. You may also want some room for a rack or cabinet to store additional cues and balls. 
Generally speaking, 8' tables (8' x 4') are considered 'professional' size, whereas 7' tables (7' x 3'6") are considered 'bar' size. Most pool table buyers will opt for the larger size if they have the space, because of a better playing experience and a more tournament style feel. On the other hand, another point to consider is that a 7' table is the same length used in most bars. This means you won't only save space at home, but if you like to shoot at bars you'll own the exact same size at home. 
Using standard 57" pool cues, an ideal room size for an 8' table would be about 14' x 18'. For a 7' table, the ideal room size would be about 13' x 17'. A good trick is that if you are tight on space you can consider using a slightly shorter pool cue. 
If the pool table will be in a basement watch out for support beams that might obstruct play. Don't worry too much about it though because even if a beam is present, there are ways to cope:
Position the breaking end of the table away from the support beam.

Position the obstruction next to the middle of a side rail to minimize impact on a game.

Implement "house rules" if a regular shot may be completely obstructed allowing you or your opponent to reposition as needed.
If money or space is not a problem and you really want to get serious about developing your skills, you may want to consider a 9' (9' x 4'6") table. This table is more challenging to play on but if you have a lot of money and a large house you are probably good at overcoming challenges anyway. While the game might be more difficult at first, once you've gotten used to playing on a large table like this, the smaller bar sized tables will be a breeze. 
Table Size Room Calculations
For differing table and cue sizes, you can use the chart below to determine what kind of playing space each table requires. For more detail, visit our pool table size guide.
Pricing:
Whether you choose to go "cheap" or can afford to go all-out, know that purchasing a table is an investment. If you're looking at slate tables with solid construction (our recommendation), the affordable tables easily run upwards of $2,000. That's not to say a fun table can't be had for less, but that's the rough budget for a long term investment in a table that's a high quality piece of furniture with a lasting, quality playing surface.
Where To Buy:
If you're just browsing, a local dealer is often your best starting point as they can usually show you a variety of table styles and brands and speak to any specific questions you have on the spot. If you already have a good idea of what you're looking for, or if there simply is no local dealer available, it's absolutely possible to buy a high quality pool table online these days. The advantages to buying online are often a slightly lower price as well as the fact that your decision isn't made with a salesman (no problem for some, a real pain for others). Regardless of whether you're buying online or at a dealer, be sure to take your time. Don't be afraid to ask as many questions as you can think of and don't assume anything - there are a lot of ancillary costs to pool tables which may or may not be included in the prices that you're quoted. Finally, take your time before pulling the trigger. We love pool tables here. It'd be a shame not to get the longest lasting, best looking, and most fun table within your budget you possibly can!