Informative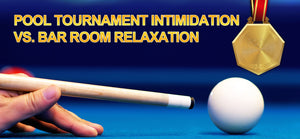 Thinking of Entering a Pool Tournament? 0
One Pool Player's reflections and advice on entering a pool tournament.
Playing in a pool tournament for the first time is always extremely intimidating; intimidation and the feeling that a player is not good enough are why most people never bother to try. My first tournament was a disaster. I walked into the largest pool hall in my area and signed up for a nine ball tournament (a game I had only played a couple of times. I had no idea what the house rules were, who the competition was, and had never played on a nine foot table before). Shortly after I paid my entry is when I came to learn that some of the people playing were not to be taken lightly; there was the in house pro, a couple masters level players, and to top it off- the 1989 9-ball World Champion. It is safe to say I lost, but it was one of the best pool playing experiences I had ever had.
There is a lot of fun to be had sitting around at home or in your local bar shooting pool with friends and throwing beers back. However, for someone that wants to learn more about the game and further themselves as a pool player, tournaments are a key experience. What I learned most that first tournament is that the more skilled players want a challenge every time they step up to the table. They want you to challenge them. Often they will give you tips between matches, or pull you over to a practice table and give you a quick lesson. Making you better simply makes them better.
Truly the only draw back to tournament play is all the down time. Depending on the size of the tournament you may play in the first round, then have to sit around for twenty minutes to an hour before you play again. For the beginner this is a good thing. The down time allows you to learn the game from watching better players; a seasoned player will head to the practice table to stay warm. If this is your first tournament it may be wise to choose one that is held in a local bar.
Tournaments in local bars are generally 8-ball, they only have around 8-16 competitors and all follow the same basic rules. Of course depending on the bar the rules may be changed slightly. It is pretty standard that in any 8-ball tournament you are going to be playing by modified BCA rules. This means that you have to call your pocket (not your shot; if your object ball accidentally hits another ball but goes into the right pocket, it is still your turn). For any foul, such as scratching or hitting the opponents ball first, your turn is over and the opponent gets ball in hand. Ball in hand means your opponent can put the cue ball anywhere on the table.
The rest of the rules are the ones that are often tweaked. Do you win if you get an 8-ball break? What happens if you scratch on the 8? For these rules it is best to show up to the event early and talk to the tournament director. They will explain all the house rules as well as give advice on other players. Like I said, pool players want a challenge.
The biggest difference between bar play and tournament play is by far in the game 9-ball. First it is most frequently only played on nine foot tables (a regular bar table is only seven or eight feet long), second is the level of competition. The rules for 9-ball are always the same no matter who or where you play. It is a rotation game; hit the lowest ball first, if any ball falls it is still your turn, if the 9-ball goes in at any time you win. 9-ball is also always a ball in hand game on every foul. The joy of 9-ball is that those are the rules no matter what bar, pool hall, city, or country you play it in.
The big question here is not if bar room play is more fun than tournament play. Really the question is do you want to take your pool playing to the next level. Any day spent playing pool, no matter if it is a game at home or in an international tournament, is a good day. Playing in tournaments is essential for a pool player that wants to grow as a player; for someone that wants the competition and to see how far this game can take them.
Why Are Pool Tables Made Of Slate? 0
The first slate table was made in 1826. A man named John Thurston became frustrated with the tendency of wooden pool tables to warp, rendering them difficult to play on. He sought out a different type of material that could be used to make pool tables, one that offered a smooth playing surface, yet was inexpensive and easy to find, and one that would not warp due to moisture or absorption. Slate was the material that met all of these criteria, and is still used in superior tables today.
Slate is a solid rock made of many minerals including quartz, clay and mica with a fine grain. It is ideal for pool tables because it naturally splits into wide, level pieces, and can be easily ground and polished into a perfectly flat surface. While heavier and more expensive than wood, slate ensures that the play surface remans smooth and level. Wood, as well as table tops made from synthetics, can warp quite easily. Because it is so durable and known to last, many manufacturers will provide a lifetime warranty for a slate pool table.
Slate is available in areas all over the globe, however Brazil, China, India, and Italy have become known as major slate exporters. In particular, slate from the Liguarian region of Italy is traditionally considered the highest quality material for use in pool tables, and will typically be marked 'OIS', meaning Original Italian Slate. Italian slate is usually softer and therefore easier to work with. While much harder, Brazilian slate is also gaining a fan base, as it is more durable, will endure years of heavy use and is virtually impossible to bend or break. Also, due to its mineral makeup, it has an extremely flat surface. With proper maintenance, a pool table with an Italian or Brazilian slate playing surface can last for generations.
A slate for a typical pool table weighs between 400 to 600 pounds, or roughly 180 to 270 kilograms, and is three-quarters of an inch to one inch, or roughly two to two-and-a-half centimeters thick. Therefore, it is not an easy or inexpensive proposition to ship one. To make transportation easier, and to reduce the risk of fracture during transit, a slate is normally separated into three pieces. Of course, when the slate is reassembled, care must be taken to ensure that all three segments match up perfectly and the table is completely flat. While one-slate tables are available for purchase, most buyers prefer a three-segment table because it's much easier to move it, and a professional installer can make the slate nearly as perfect as a one-segment slate table.
In a quality table, the slate is larger than the actual playing surface, extending beneath the rails of the table and therefore providing them with added resilience. The slate should also be inside a wooden frame so that the felt cloth, once stretched over the slate, can be stapled or tacked to the frame, rather than adhered to the underside of the slate directly.